We Are Open For Bookings!
Delivery To Your Home Is Now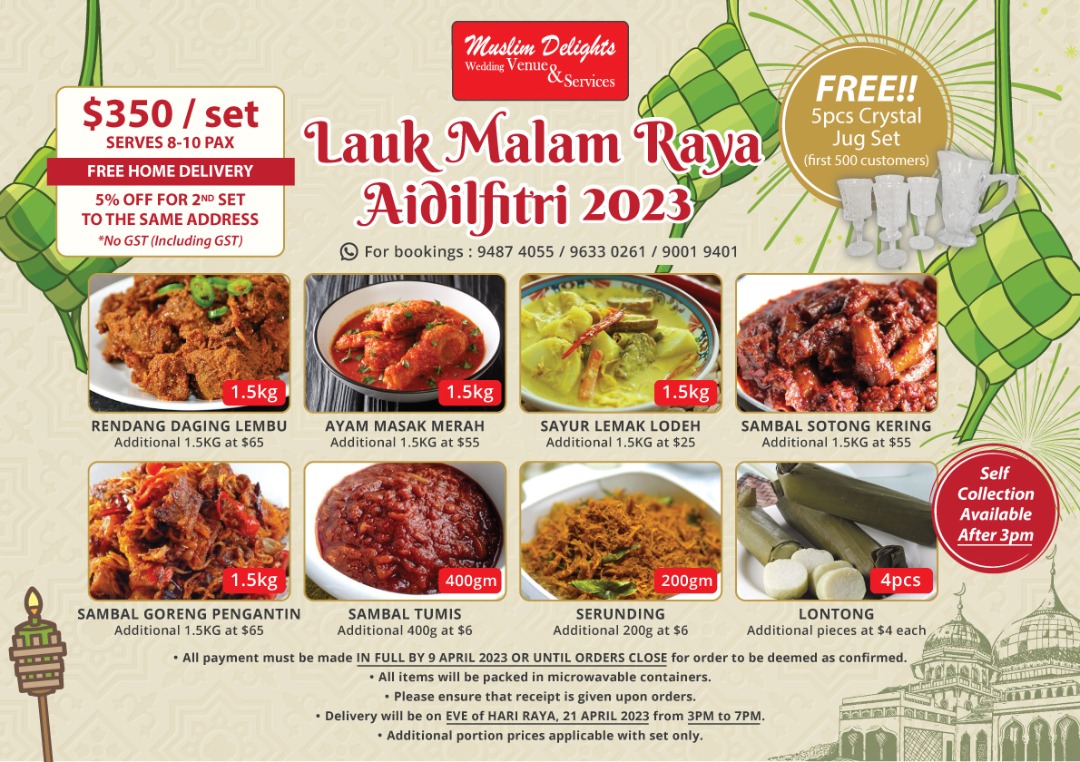 All payment must be made IN FULL BY 9th April 2023 Or UNTIL ORDERS CLOSE for the order to be deemed as confirmed.
All items will be packed in microwaveable containers.
Please ensure that receipt is given upon orders.
Delivery will be on EVE of HARI RAYA, 21st April 2023 from 3:00 PM to 7:00 PM
Self collect available after 3 PM onwards
Additional portion prices is applicable with sets only
Thank you, we will contact you soon !
2023 Malam Raya Aidilfitri Order Form
$350 per set / Serves 8-10 pax
| | |
| --- | --- |
| Rendang Daging Lembu (1.5 kg) | Ayam Masak Merah (1.5 kg) |
| Sayur Lemak Lodeh (1.5 kg) | Sambal Sotong Kering (1.5 kg) |
| Sambal Goreng Pengantin (1.5 kg) | Sambal Tumis (400 g) |
| Serunding (200 g) | Lontong (4 pcs) |
Additional 1.5 kg Tub at $65.00
Additional 1.5 kg Tub at $55.00
Additional 1.5 kg Tub at $25.00
Additional 1.5 kg Tub at $55.00
Additional 1.5 kg Tub at $65.00
Additional 400g Tub at $6.00
Additional 200g Tub at $6.00
You need to select an item to continue
Final cost
The final estimated price is :
Summary
| Discount : | |
| --- | --- |
| Total : | |